Where To Find Football Scholarships
Thousands of high school football players annually hitch their college hopes onto the prospect of a scholarship. It's the way of the world. Fact is many very good players, even excellent football players, will have scant chance of winning the full-ride scholarships every star dreams of.
Football scholarships have become increasingly competitive. In addition to needing to do everything possible, including catching the eye of coaches and creating a video highlighting your skills, it also takes a good bit of tenacity to keep at it. No matter how talented, you might not get a scholarship on your first try. But there is funding to be found and even specific scholarships for the position you play so check out the following vital resources.
NCAA, NAIA and NJCAA Scholarships for Football
National Collegiate Athletic Association (NCAA) Div I and II both offer elite athletes the opportunity to compete for football money, with either full (head-count sport in DI) or partial athletic scholarships. But for every 100 dreamy-eyed high school football players, there may be only a few available scholarships in a Div I school.
Two other athletic associations, the NAIA and the NJCAA, also offer football scholarships. Division I and II of the NAIA and the NJCAA all may offer varying levels of football scholarships. However, most competitive "money" football teams are housed within NCAA Div I.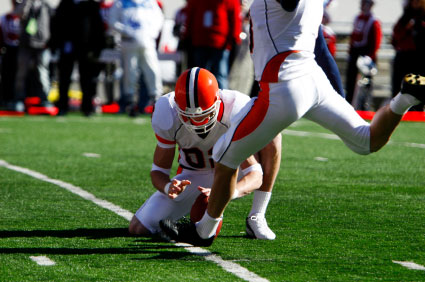 In addition playing showcases and making sure scouts get a chance to see you it's also wise to build up your academic and community-assistance skills to help set you apart from the rest. But chances are that if you're good enough to play on an NCAA DI football team you and everyone else around you will recognize it early in your high school career. College coaches and recruiters will likely already know your name and be in contact; if they are then be sure to be both professional and proactive in your approach.
Division III Football Scholarships
This title is a bit of a fake-out because Division III schools in any of the athletic associations do not offer athletic scholarships. These schools are usually much smaller in student body size and focus on providing an all-around college experience that includes both academics and athletics. But that doesn't mean they don't have competitive football teams.
When you think beyond the box you'll realize that schools have other financial leverage to help good athletes with solid academic records come aboard. Many schools work very hard to balance excellent athletics with excellent academics, something the Div I schools may be a bit more lax about. At this level if you're a student football player with a rock solid game record and killer academics to boot AND if you demonstrate sufficient financial need, you could easily be awarded a nice academic scholarship or grant.
The truth is that smaller Div III schools woo good athletes who are less interested in the stress of being on a full-ride scholarship.
Improve Your Odds
Yes, the odds of a full ride football scholarship means beating out an unbelievable amount of competition, but it can occasionally be done. Here are a few tips:
Keep improving your game by attending football camps and by getting private coaching if you can.
Invest in a first-rate highlight video that gets coaches talking.
Visit multiple colleges and universities so that you get on the coaches' radar.
Make the effort to be a well-rounded student by keeping your GPA up.
Get involved with community-building activities whenever you can, as this one thing might set you apart from the rest.
Honor commitments and be at scheduled meetings on time. Be courteous and professional, always.
Cultivate good relationships so that you'll have good references available whenever you need them.
Listen to those with more experience and skill, and to those who are where you some day hope to be.

Don't forget to keep your eye on the prize at the earliest moment that you know you want to make your passion for football a career. And don't forget that with the competition as stiff as it is every advantage counts, so make every effort possible to be the best even before the rest of the world knows it!
Review more Information on These Specific Types of Athletic Scholarships: