Scoop a Lacrosse Scholarship
You're a "lax" junkie and you want to play college – preferably with some scholarship cash. Can you make this happen and what are your best go-to sources for athletic scholarship funding?
Lacrosse as a collegiate sport has become more and more popular, more and more competitive. The game draws massive audiences hungry for the game's speed and dynamism. Athletic lacrosse competition even at the high school level is ferocious. According to U.S. Lacrosse, currently well over 500 college varsity and club teams compete in competitive lacrosse. Of those a few hundred are NCAA and NJCAA member schools where championship lacrosse is played.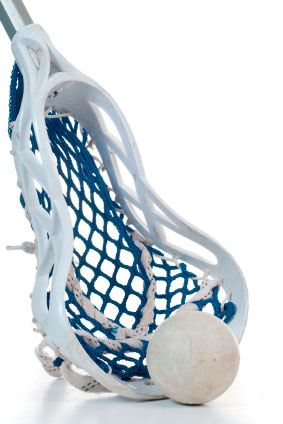 NCAA Lacrosse Scholarships
The NCAA sponsors both Men's and Women's lacrosse at a couple of hundred schools and across all 3 divisions. Divs I and II are scholarship level play—schools may offer a maximum number of full-scholarships to their lacrosse players based on NCAA rules.
Men's D-I and D-II lacrosse teams are limited to 12.6 and 10.8 full scholarships, respectively.
Women's D-I and D-II lacrosse teams are limited to 12 and 9.9 full scholarships, respectively.
None of these are headcount sports, so coaches may choose to divide their available scholarships into smaller, partial scholarships. This tactic allows them to offer more Lax players a piece of the athletic scholarship pie—which can be a very effective leverage tool.
Division III Lacrosse and Scholarship Money
It's fairly widely known that Div III sports teams are restricted from offering athletes money to play their sport—and that holds true for lacrosse players. This doesn't mean that D-III schools offer no competition. They do. In fact some excellent lacrosse players CHOOSE to play D-III, men and women. For some athletes smaller campuses focused on a good balance of academics and athletics are appealing; so is the relief of not having to compete for a sports scholarship and the associated stress of adhering to strict team rules and killer training regimens should they earn a lacrosse scholarship.
D-III schools use need-based grants and scholarships, as well as academic scholarships to leverage attracting good athletes who also have solid academic records to their name.
NJCAA Lacrosse Scholarships
The National Junior College Athletic Association (NJCAA) is often overlooked when students are shopping for sports scholarships. Member schools include junior colleges and community colleges. Fact is some fierce lacrosse competition happens in this association and some very nice scholarship money is doled out.
Lacrosse athletes pursuing the JUCO college pathway are advised to contact coaches midway through their high school careers. Few have the financial flexibility to actively recruit and often rely on students seeking them out for scholarship positions. The NJCAA is permitted to offer full- or partial lacrosse scholarships.
Other Sources for Lacrosse Scholarships
Here are a few examples of the types of sources you should seek out for lacrosse scholarships:
U.S. Lacrosse offers both Camp Scholarships and college scholarships. The Camp Scholarships help lacrosse players from youth through high school pay their tuition to summer lacrosse camp. The Michael Breschi Scholarship is aimed at providing college scholarship money to the college-bound dependents of a member high school lacrosse coach.
Some common sources for lacrosse scholarships or student athletic scholarships are athletic equipment suppliers in your area and even lacrosse clubs and regional associations.
Review more Information on These Specific Types of Athletic Scholarships: